MOTH amplifiers & Mission 777
In 1989 I designed a range of amplifiers for my old friend Mike Harris at Moth Marketing. The range comprised a Passive Control Unit; an active MC/MM Pre-Amplifier; a Stereo 30 watt Power Amplifier; a Mono 40 watt amplifier and a Mono 100 watt amplifier. These products got good reviews in their day and only recently ceased production. The photos below show a Moth MC/MM Pre-Amplifier.
Information on the Mission 777 power amplifier can be found HERE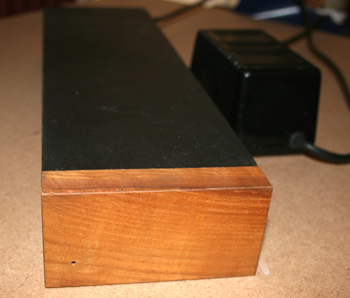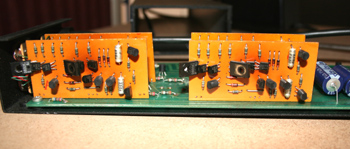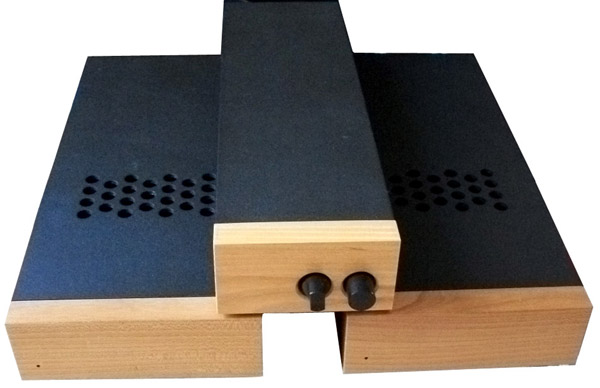 A glorious pair of the rare 100 watt power amplifiers with a passive pre-amplifier control unit. (Thanks to Raymond and Killian Bakker)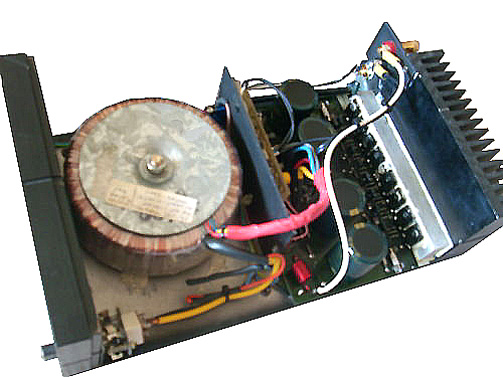 An inside view of the Moth 100. Note four pairs of output transistors with the reservoir capacitors close to the transistors. The low-level amplifier stages are on a plug-in board mounted vertically on the metal shield plate. All in all a very compact design.
Here's an internal view of the very rare 30 Series Mono Power Amplifier (thanks to Bert Oostergetel) Its output is rated at 40 watts into 8 ohms and the circuit is unusual in having two driver and output stages operating in parallel thereby doubling the output current capability. Note that the driver transistors are in pairs bolted together thereby halving the current through each one. This particular unit is dated August 1998 and I think production (which started in 1990) continued into the 2000s.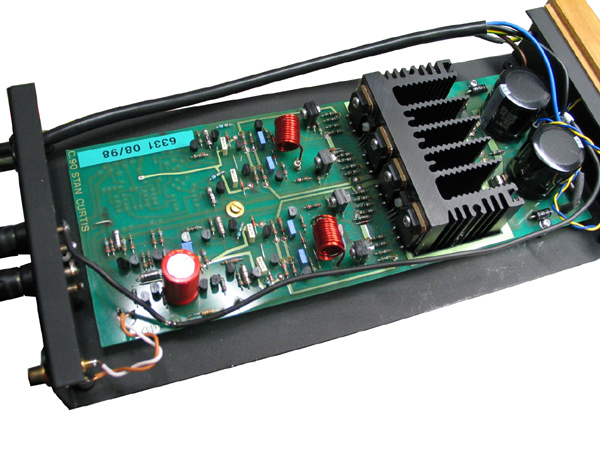 It has previously been very difficult to get the circuits of these products so I've added them to this site together with a few other downloads that might interest particular visitors
In 1993 I designed a new version of the 30 Series Active Pre-Amplifier. It featured a dc servo system which removed the need for the bi-polar electrolytic capacitors and it used better quality components, particularly the phono sockets. Here are a couple of pictures from a prototype I found recently. The black cable goes to the external power supply which was a 100VA toroid transformer in a Moth box and the DIN socket was for the "Tape In" and "Tape Out" connections. I've added the schematic to the Downloads below.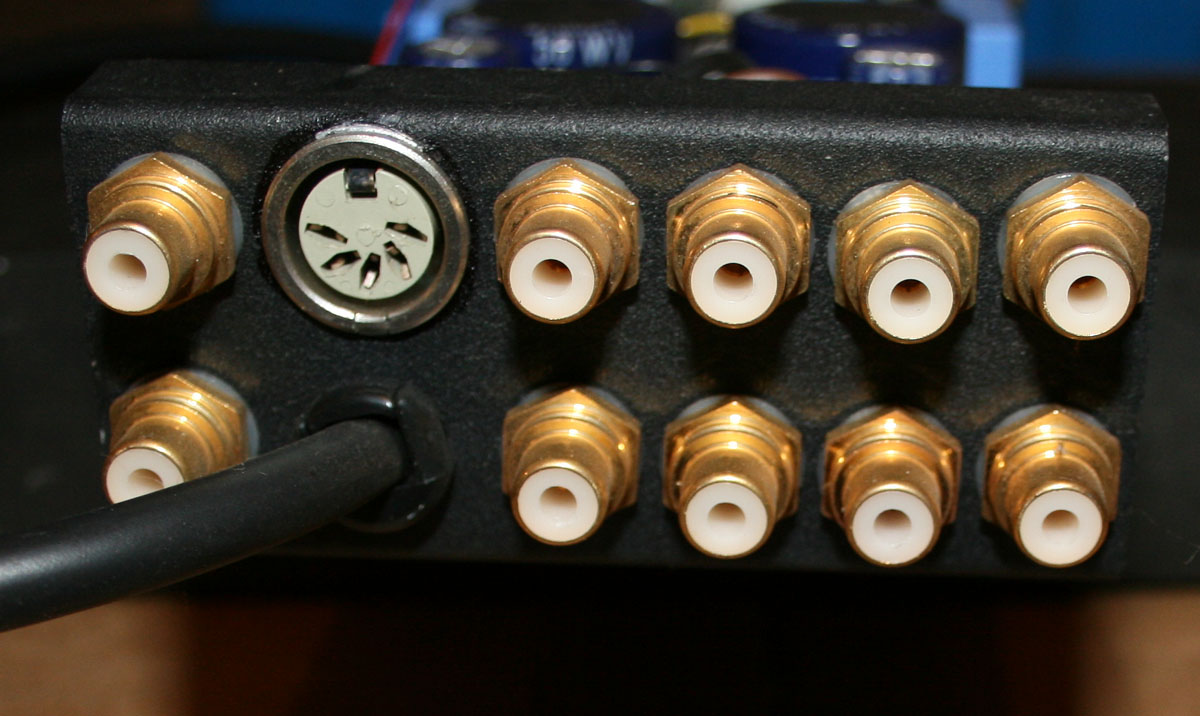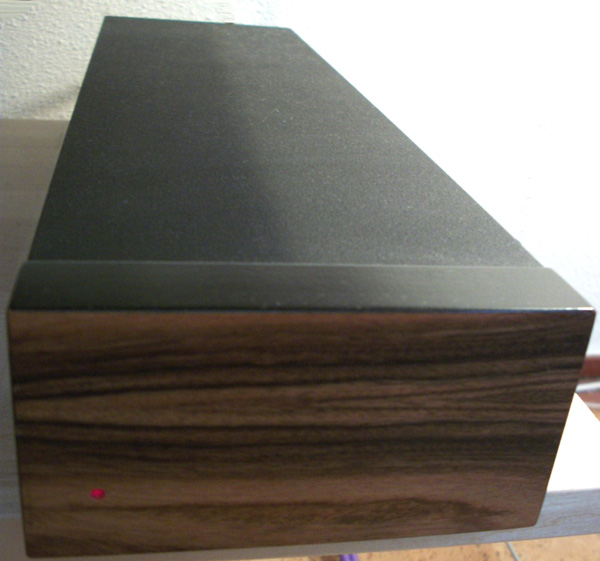 A beautiful example of the Moth Phono Amplifier with a walnut (?) front. (thanks again to Raymond & Kilian Bakker)
Downloads
<click on the logo to download>

Circuit Schematic for Moth 30 Series Active Pre Amplifier Main Board

Circuit Schematic for the second generation (1995 onwards) Moth 30 Series Active Pre Amplifier Main Board

Circuit Schematic for Moth 30 Series Active Pre Amplifier Sub-Boards

Circuit Schematic for Moth 30 Series Stereo Power Amplifier (30 watts per channel)

Circuit Schematic for Moth 100 Series Mono Power Amplifier (100 watts) Sheet 1

Circuit Schematic for Moth 100 Series Mono Power Amplifier (100 watts) Sheet 2

Service Manual for the Compton Melotone Organ. An innovative British organ of the 1950s which generated its tones from capacitive discs rotated by a motor. This is a big 11 Mb file so it will take a moment or two to download. An introduction to Compton's can be got by visiting:
http://uk.msnusers.com/ComptonMelotonesandElectrostaticOrgans/introduction.msnw